Welcome to Pine Lake Christmas Tree Farm
"FRESH, FRAGRANT, BEAUTIFUL CHRISTMAS TREES"

CHRISTMAS TREE STANDS

Displaying your Christmas tree in a sturdy stand with a generous water supply is the most effective way of maintaining its freshness and minimizing needle loss. Pine Lake Farm recommends and offers for sale the Cedar Valley Christmas tree stand, which is made in Louisburg, Kansas. This stand is made from heavy weight steel and has a wide base, which provides excellent stability for the tree. Placing the tree in the stand is an easy, relatively quick process, with a chain around the trunk into which four S-hooks are entered. These hooks are on nylon ropes which feature an adjustable tension, and are secured to the metal base. Each stand comes with a large pail to provide adequate capacity for a sufficient water supply. The stands are available with a base diameter of 24, 30, or 36 inches. This stand will last for many years; additional ropes, chains, and pails are available for customer convenience.

Copyright 2011 DiamondHill Productions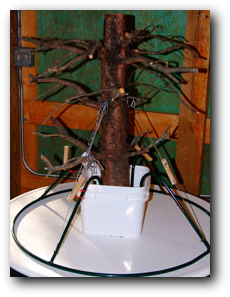 Open: Day after Thanksgiving
Opening Day: 9 am - 6 pm
Weekdays: 2 - 6 pm
Saturdays: 9 am - 6 pm
Sundays: 12 - 6 pm
Closing Day: December 23


6802 South Oliver Street,
Derby, Kansas 67037
(316)258-0088 / (316)259-5378